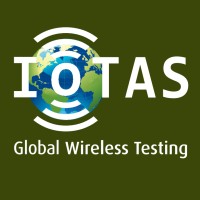 IoTAS
Stand: G13
| British APCO Member
| Emergency Services Network (ESN)/MCX over LTE & 5G
| In-vehicle radio equipment
IoTAS help the wireless community (5G / 4G / 3G / 2G / NB IoT / Cat M1 and Satellite Receivers) to place their products on the market and ensure they perform as expected.
Established in 2003, with headquarters in Cambridge (UK) and offices across the globe, providing regional support, IoTAS has gained an enviable reputation for quality and professionalism. The company's executive team has extensive experience working for leading manufacturers and test houses with hands-on knowledge in smartphones / IoT / module design, approvals management and field testing.
The company is a UKAS accredited testing laboratory to the international standard ISO/IEC 17025:2017 (Accreditation No. 7619) which demonstrates technical competence and the ability to produce precise and accurate test data. This accreditation now extends to 5G testing.
IoTAS have the necessary experience and skills to provide device manufacturers with a complete Test & Approvals Management service to ensure that their products achieve the required industry conformance approvals.
IoTAS is a founder member of the Global Certification Forum (GCF) Ltd, and is a Recognized Test Organization (RTO) for GCF field trials and is an Assessment Capable Entity (ACE).
The GCF is generating a certification process to allow certification of Mission Critical devices. IoTAS are involved in the interoperability – field test verification for Mission Critical Service (MCS) – for test cases in the TS.11 Device Field and Lab Test Guidelines maintained by GSMA TSG FTDG, which are part of the Global Certification Forum (GCF) Certification process discussions. This testing process when completed will help ensure that broadband LTE devices and mission critical applications (Mission Critical Push-to-Talk – MCPTT, Mission Critical Video – MCVideo and Mission Critical Data – MCData, collectively known as MCX) are interoperable with mission critical networks and services.
IoTAS is a Bronze member of the British Association of Public Safety Communications Officials (BAPCO).
If you need assistance / advice with an IoT device embedding a module or if you have a smartphone we can help.
Address
4 Quy Court
Colliers Lane
Stow-cum-Quy
CB25 9AU
United Kingdom